Evidence of experience for Canadian Immigration
---
Thank you for taking the time to consider our application. I have been a self-employed graphic designer for many many years now in one form or another. I especially love what I'm doing now where I'm able to combine my graphic design work with actually helping the business owner to grow their business too...which of course leads to more opportunities to upsell the graphic design services. It's so important to really understand the client and what their business needs are in order to provide them with designs that not only do they love - but are also going to benefit their business. By choice I work with small businesses as I love the help I can provide them with being a small business owner myself.
You'll find my portfolio of recent design work by clicking below...or I've provided a variety of links and information about work over the years further down this page.
---
View Graphic Design Portfolio
---
Business Plan Proposition for Canada
There are many reasons for choosing Canada as the place that we'd like to live. One of those many reasons has to be the similarities in culture to the UK. Other than it being an English speaking country, there are lots of ways that Canada is similar and that will make it easy to replicate what I've achieved with Sandcress in the UK within Canada.
To research this further (which we did before making the application) I joined a number of community Facebook groups in the Innisfil and Barrie areas so that I could gain further insight to the people that live there and also the businesses discussed. This gave me further confidence that there was huge scope for me to benefit the area by helping individuals to grow their businesses through my services.
I have put together a full business plan for how I would start and grow Sandcress in Canada should we be successful in achieving PR status which you can access below. This will hopefully also demonstrate the cultural benefit I believe I can bring. I have already identified a Canadian website address for the company which I will purchase as soon as I'm able. If we were lucky enough to be granted PR status I would commence work on the build of the new website and company immediately. Because I work from home and the majority of my consultations are done online, this would enable me to potentially start marketing the business in Canada and helping small business owners in Canada as soon as my site was complete - even before moving to the country.
Should you have any questions relating to my business plans for Canada, please don't hesitate to get in touch.
---
View Sandcress Canada Business Plan
---
---
Sandcress
When I originally started Sandcress I thought I would be focussing entirely on graphic design, but what quickly became apparent is my aptitude to help my clients build or grow their businesses fostered a very strong, trust based relationship that meant that they come back to me time and again for more work even once their business was up and running successfully. They of course also then recommend me to people they know which results in the constant steady flow (often torrent) of work I receive. With this in mind I have kept the business consultancy a solid part of my business model and marketing strategy to bring in customers needing graphic design help.
The work I do with my clients usually starts in one of four ways:
Often they want advice about starting a business (this has worked exceptionally well as a marketing strategy) and I provide them with a package for graphic design services as well as business support which results in a regular request for more graphic design work from them going forwards.
A client simply needs a logo designed or some other form of graphic design work doing.
They come to me initially because they have some graphic design needs and that leads to them asking me to help them start or grow their business (which often in turn leads to more graphic design needs in the future).
Sometimes they need help with their business and marketing and in order to help them I provide graphic design services as well as business support as part of a package and then more graphic design help as it's needed in the future.
Facebook page: https://www.facebook.com/sandcressbusiness/
Portfolio of recent print design work: https://www.sandcress.co.uk/design-gallery/
You can also see testimonials from my clients and more information about how I've helped them on my Case Studies page: https://www.sandcress.co.uk/case-studies/ or my testimonial page https://www.sandcress.co.uk/testimonials/
Previous Hemingfords' Directory Magazines: In all I designed 62 issues. The most recent one is clickable so you can look through it should you wish to - you can also take a look at their facebook page at https://www.facebook.com/The-Hemingfords-Directory-710458425713710/ I have also included our paperwork, a reference letter from Carly McDonald, the lady who owned this directory until it was sold in January 2020.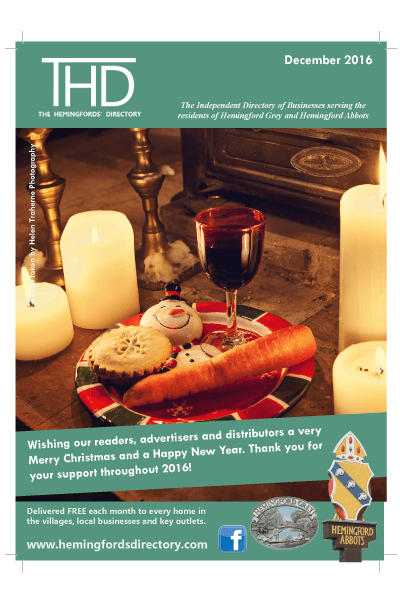 Bonkers About Babies Magazines
A year or two after closing Bonkers about Babies I took the website down so unfortunately that isn't available for you to see but you can still access the following:
Facebook page: https://www.facebook.com/Bonkers-about-Babies-and-Toddlers-Too-168425429857176/ this page hasn't been used for some time as I closed the business in 2015 but the page remains open for local parents to use the resources within it.
Facebook group: https://www.facebook.com/groups/bonkersaboutbabies/files/(to view this group please ask to join it and I'll get that approved). You'll find all the most useful articles we included in the magazines over the years on this page.